Welcome back to my series on monster design for Pathfinder 2e. Last week we discussed the pikkwit, a pesky little fey trickster based on real-world hoarding rodents. This week we're upping the ante by cranking the challenge a few degrees and tackling one of the most common enemy types in fantasy games: undead. Grab your holy symbols and prepare your calm emotions spells, because things are about to get spooky.
You can probably conjure to mind that classic scene in old horror movies where a decaying hand bursts forth from its grave to herald the rise of the living dead and perhaps grab an imprudent teen's exposed ankle. Or maybe you envision an ancient funerary cask swinging open to reveal the reaching hands of a shrouded mummy. It could even be a plain old coffin sitting ominously in the shadows until the lid slams suddenly open and a slavering, grasping zombie emerges. No matter the specifics, we as humans have a morbid fascination with death, burial, and the possibility of reawakening after interment. At the very least, the slow approach to a sealed sarcophagus and the dreadful knowledge of what lies within are the perfect makings of a good jumpscare.
BAM! Enter the coffin banger. Yes, I know it sounds a little silly, but it's an old-school name for an old-school spook. There are endless waves of undead monsters for GMs to choose from when designing an encounter, many of them highly eligible to pop out of their regionally appropriate casket and make a lunge for unwary party members. Why should (or shouldn't) they choose this particular one? In other words, what's the use case?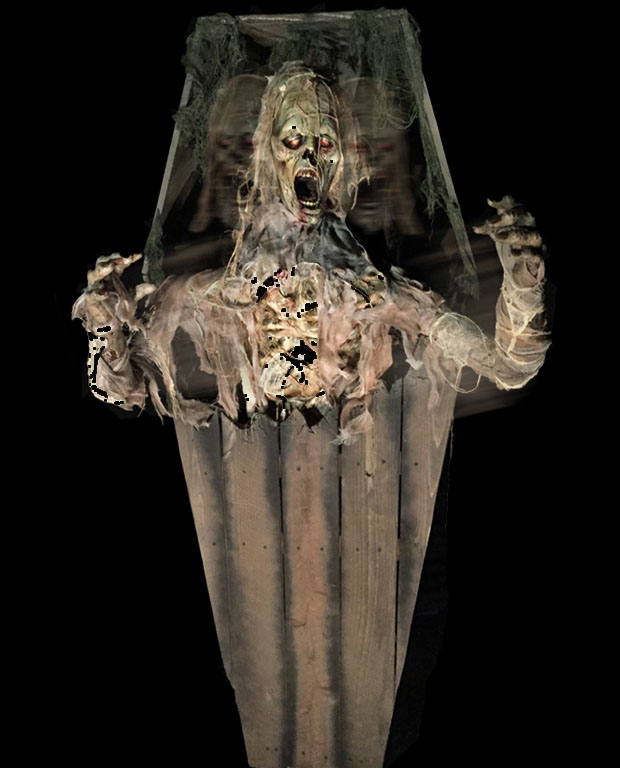 The answer ties back into what I hope to accomplish with this creature's concept. Typically in these scenarios, the sarcophagus is just there to set up the "bust out" moment, which serves as the monster's grand entrance. The whole thing is a cinematic prelude, occasionally accompanied by a Will save to represent how scary the situation is, but the real attraction is the combat that follows once the undead is free of its sepulcral trappings. Instead, I wanted to have a go at making a creature that was all about the "bust out." It won't leave it's coffin during combat—in fact it can't—and the coffin itself lies at the center of the monster's abilities and the ways the PCs interact with it. Mind you, this is a bit of a mad experiment in creature design, and I really can't know if it works well or not without playtesting it, but it should at least make for an interesting thought experiment.
So, how does a creature that's essentially a Jack-in-the-Box work? I mean, what can it even do? Well, most obviously it can pop out and scare people, which it accomplishes through its Frightful Eruption ability. This reaction allows it to suddenly emerge from its coffin and potentially inflict the frightened condition on nearby creatures. Pretty much what I described in the paragraph above. It is important to note this ability only functions outside of combat. It's requirement dictates that creatures be unaware of the coffin banger's presence, and the reaction circumvents normal initiative rolls to ensure the scare goes off before entering combat proper. I'll note that I initially drafted Frightful Eruption as a somewhat convoluted free action, but later changed it to its current form by using the Shambler's pre-existing Shamble ability as a basis. As always, it's important to do your research and find the most optimal, most accepted formatting available.
With the jumpscare out of the way, what's left for the coffin banger to do, and how do we keep it threatening? The answer is slow, creeping, inevitable dread. You may have noticed this gravecrawler has a painfully low speed of 5 feet; far slower than your average zombie. That's because this undead pulls itself along with its hands, dragging its entire coffin in tow (sidenote: coffin dragger and coffin crawler are my two alternate names for this monster). At this rate our poor creature will never get its bony hands on a PC...unless it has some way to even the playing field. That's where Legs to Jelly comes in, giving the coffin banger a chance to slow or ideally paralyze one creature each round. The idea, hopefully, is to freeze a PC in place, perhaps for multiple rounds in a row, as the coffin banger creeps forward hand-over-hand, scraping its pine box along the ground as it comes. Pretty creepy, right? Now the ability to stunlock a PC, especially as a free action, may appear incredibly broken on a level 3 monster—and without some severe caveats it absolutely would be. I tried to keep this under control by limiting the ability's use to once each turn, before the coffin banger has taken any other actions. We'll cover why that requirement is crucial a little later.
Let's talk about the elephant in the room. Imprisoning Coffin is an extensive, multi-part ability that seems pretty dense at first glance, so let's break it down piece by piece. 1) Even though it's bound to the creature, the coffin is always considered an unattended object with its own set of statistics. This means that players can interact with and even attack the coffin regardless of what the coffin banger is doing. 2) The coffin banger can emerge from or withdraw into the coffin by opening or closing the coffin's lid as an Interact action. Other creatures can force the coffin banger to emerge or withdraw as well by interacting with the lid, but they must succeed an Athletics check to do so. Pretty straight forward so far. Now for the fun part. 3) While withdrawn in the coffin, the 'banger gains fast healing 3 and breaks line of effect with other creatures. This last part means PCs can't target it with attacks or spells, and vise versa, as long as it stays holed up. 4) If the coffin is broken the 'banger loses the ability to withdraw into it and becomes quickened 1. Basically, once the coffin is busted there's nowhere left to hide, but the coffin banger goes into a frenzy that grants it an additional action each turn. 5) Finally, if the coffin is destroyed, so is it's occupant.
That's a whole bunch of rules without a lot of obvious utility in combat. Sure, the coffin banger can withdraw to take shelter and heal up, but it's going to spend so many actions just popping in and out that it won't get much else done. Especially not with that move speed. That's why it needs a special ability, Slam Lid, so it can hide at the slightest sign of danger. By shifting the "withdraw" half of the equation to a reaction, the coffin banger frees up a precious action on its turn while also gaining the ability to immediately take cover from threats.
Now hopefully the pieces are starting to fall into place, and the coffin banger's role is becoming clearer. If the pikkwit from last week was a fey version of a greedy chipmunk, then this undead is really just a turtle. A big scary turtle. It may move slowly, but it can also paralyze a PC long enough to get within reach. It may be vulnerable to ranged abilities, but it can instantly shut itself up and bide its time until the danger has passed. If the players get wise and attack the coffin, they can shut down its defensive abilities at the cost of sending it into a frenzy. To return to our initial question regarding the use case, this monster is most effective when positioned as an ambush predator in an environment that isn't too easy to escape from. Place it at the heart of a claustrophobic crypt or blocking the only exit tunnel so that players are sure to set it rattling, and minimize escape options so running away isn't so easy. If they do manage to flee, a persistent GM could arrange a reprise when the monster comes crawling up to their campsite days later. It's been tracking the party this whole time, Terminator style!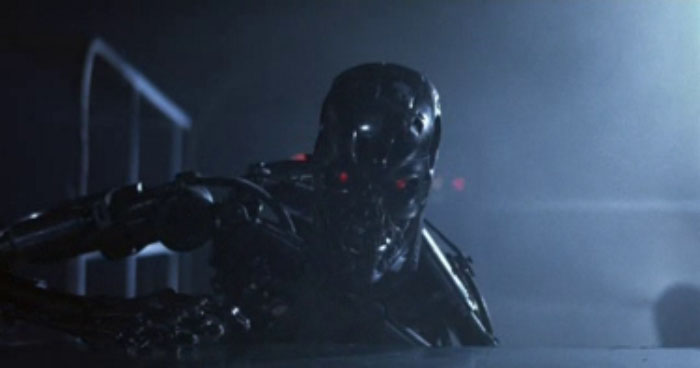 If you think that's sadistic, we haven't even gotten to the coffin banger's nastiest ability. For two actions, Entomb lets the coffin banger drag a creature into the coffin alongside it, slamming the lid to trap its victim in suffocating, draining darkness. Like the generic Swallow Whole ability on which it is based, Entomb imposes a number of penalties while dealing a mess of negative energy damage that keeps racking up the longer the creature is entombed. Now the need for rules on prying open the lid should be apparent, as well as the necessity of Improved Grab on the 'banger's otherwise unnoteworthy Strike.
As you can see, the coffin banger is a complicated enemy, both for players and GMs. It has a number of abilities that trigger under specific conditions. Some of these must be granted for free to balance out the challenging action economy imposed by a 5 ft. movement speed. Each round, the GM is presented with a combination of aggressive and defensive options, some of which have an impact on the next round as well. Remember that overpowered free action Legs to Jelly? Recall that it can only be used at the start of the coffin banger's turn before it takes any actions. This is all well and good if it's out of its box, but remember that while withdrawn the coffin crawler has no line of effect to other creatures. So if it starts its turn inside the coffin, Legs to Jelly is a no-go. Now the GM has to choose between the free stun or the free withdrawal via Slam Lid, because they can't have both.
In summary, the coffin banger is an interesting study in the push and pull of monster design. It has a lot of co-dependent abilities with the potential to shape the narrative of the fight as well as the tactical choices. Players will have to decide if they want to coax out its vulnerable body and deal with the stunlock, or force it to hide as they chip away at its shell. While the coffin banger may start off obnoxiously tanky, once its coffin is broken, it loses access to many abilities and becomes pitifully vulnerable. All in all this build may be a touch overwrought for the monster's level, and if submitted to Paizo I would not be surprised to see this creature undergo streamlining before publication. I do believe this design accomplishes the goal of taking an unusual approach to the "pop out" monster by making continuous "popping" a viable and necessary strategy throughout the entirety of the combat. I can just see the look on players' faces when a foolhardy PC wanders too close to the coffin, only to be frightened, grabbed, and entombed within the first round of combat. I can envision the ensuing panic as party members frantically attempt to get the coffin open, followed by a tense game of whack-a-mole as the GM juggles the tasks of ensnaring PCs and avoiding too much damage. I can imagine the cheer that goes up from the PCs when they finally break the coffin, followed by the dread of realizing their foe is not going down without one last furious frenzy. And at the end of the day, if I can tell myself a fun story with my monster based only on its stat block, I'm pretty satisfied.
Cheers, and happy imagining!